The 2022 Subaru Love Promise Community Commitment Award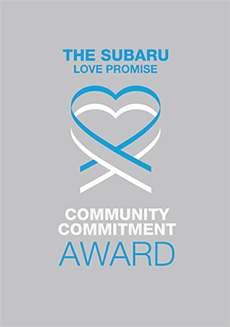 We've been nationally recognized for our dedication to our community and the Subaru Love Promise.
We're honored to receive the 2022 Subaru Love Promise Community Commitment Award. This award nationally recognizes Subaru retailers who are making the world a better place while demonstrating an outstanding commitment to supporting passions and causes in local communities. These efforts are focused in important areas such as the environment, community, health, education, and pets.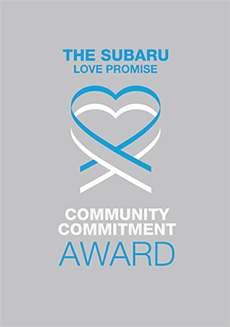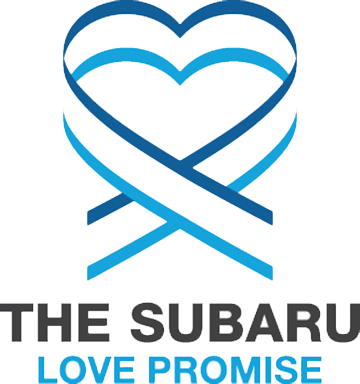 What is the Subaru Love Promise?
Subaru and our retailers believe in making the world a better place and the Subaru Love Promise is our vision of respecting all people. This is our commitment to show love and respect to our customers and to work to make a positive impact in the world.
How is Subaru of Olathe dedicated locally to the Love Promise?
Love Promise Commitment
Sante Fe Trail Middle School
Boys and Girls Club Olathe
American Cancer Society Inc.
Love Promise Stories from Subaru of Olathe
Subaru and Subaru of Olathe believe in making a positive impact on the communities in which we live and work. We uphold that belief through our Love Promise Community Commitment. Every month, we select inspiring stories from customers and partners from around our area who strive to support our collective commitment and feature them here
Subaru Loves Service Dogs - Sherri B
The Heartland Volunteer Chapter of Canine Companions recently attended a fundraising event at the Subaru of Olathe dealership in our area, primarily because it was supporting an organization that helps individuals with intellectual disabilities by teaching them how to make dog treats, dog toys and dog bandanas, amongst other things.  We thought it would be a fun event to take a few of our future service dogs to.  Canine Companions is the largest service dog provider in the US, matching highly trained service dogs with children, adults and Veterans completely free of charge.  When we arrived at the dealership, we were warmly welcomed by Kevin Kight and his staff.  The event was a lot of fun and raised funds that would help individuals become more independent.  So, we decided to ask Kevin if he'd consider hosting an event for our organization as well and he readily agreed!  A few weeks later, we returned to the dealership to set up a booth and begin telling Subaru customers about the amazing mission of Canine Companions.  Service dogs give lifechanging independence to individuals with disabilities, and you can't put a price tag on that!  Although we didn't receive a lot of donations that day, Kevin gave us a very generous check to put towards DogFest, our largest fundraiser of the year.  We're also looking forward to being a part of the Grand Opening Celebration when they open their new showroom next year!  We are grateful to Subaru of Olathe and look forward to our ongoing partnership.  I've personally been a Subaru owner for several years and the culture of care that Subaru instills in their dealerships all around the country makes me feel good about the vehicle I chose to drive.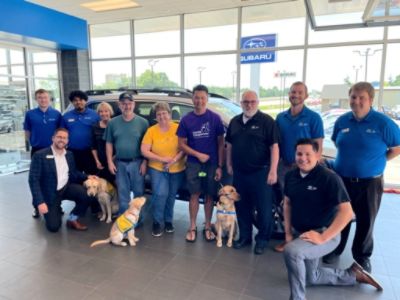 ---
A ride to treatment - Ashton W
When you're diagnosed with cancer, there are a million things that run through your head. One of the obstacles for many is getting to and from treatment. Cancer comes with many appointments and treatments - sometimes every day for weeks in a row. The American Cancer Society works to solve this problem through our volunteer Road to Recovery program where volunteers sign up to drive cancer patients to their treatments. We also solve this problem through grants to our local health systems so they can help fund rides to treatment. The money from Olathe Subaru's Share the Love event fuels these important programs so we are working together to make sure that cancer patients in our community do not have to miss a treatment because they could not get a ride.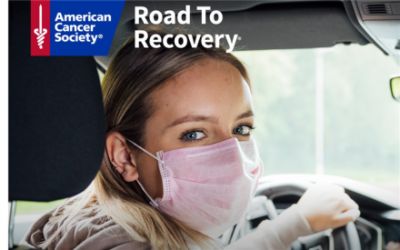 ---
Starfish Project Foundation - Joni M
Subaru of Olathe has not only blessed Starfish Project Foundation, they have blessed those that are food challenged here in our community. We are diligently working with local restaurants, business and grocery stores to keep food from going to the landfill. In partnership with our volunteers, we began picking up food from the 15 junior high and high schools here in Olathe (averaging 4,500 entrees in a full week) and redistributing it out on a daily basis, starting with our kids. In order to keep the food safe, we were in desperate need of a refrigeration unit. Subaru of Olathe donated $6,000 to help us buy that unit. Now we are not only able to support our food program, we are able to expand it. We would not be able to impact over 1,000 lives per month and do what we do without the support of our community and amazing business like Subaru of Olathe. Thank you so much for all that you do to support us and the amazing community we live in!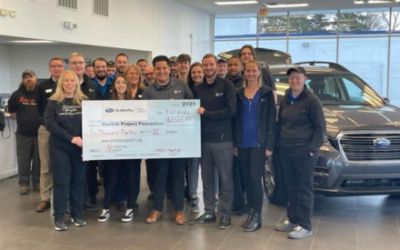 ---
Tremendous Commitment to Local Nonprofit Event - Edie H
The team at Subaru of Olathe went above and beyond to host a fun event for dog-lovers and productive training opportunity for young adults with special needs. On March 12th Katie Pine, a student at PawsAbilities, worked the mobile store event by handing out dog treat samples and selling merchandise made by fellow students. PawsAbilities, a nonprofit located in Olathe, KS, provides job training, employment and future housing for young adults who have disabilities. Kevin Kight, General Manager, went out of his way to support the mobile store. He bought T-shirts for all of his staff and had them wear the shirts the week leading up to the event. He promoted the event in the dealership's newsletter and social media. He even purchased jumbo dog treats to give to the customers the day of the event. The employees were equally supportive. They helped set up and take down the booth. They purchased products not only for their pets, but also for the pets of their families and friends. At the end of the day PawsAbilities sold out of dog treats, dog cookies and apparel. Thank you, Subaru of Olathe, for genuinely caring about your community and making a positive impact.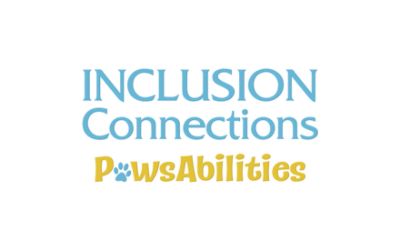 ---
Teacher Appreciation-Rolling Ridge Elementary - Katy H
Earlier this year I had the pleasure of being introduced to Mr. Kevin Kight, GM Subaru of Olathe. The partnership between our elementary school and his business quickly grew. From volunteering in our schools to bike give-aways, this company has made a commitment to us and our students. About a month ago he reached out and wanted to give back to teachers and staff in our building. We were blown away at his generosity to support us. We always appreciate the little things, but this was major! A night of fun, food and fellowship at Top Golf and all we had to do was show up. I have been teaching for over 20 years and I have never had an event like this. The gratitude we felt was overwhelming. Thank you Kevin Kight and Subaru of Olathe for a wonderful teacher appreciation night out. Our hearts are overflowing with all the love and support you have shown us this year. You and your staff are amazing and we look forward to more collaboration in the future.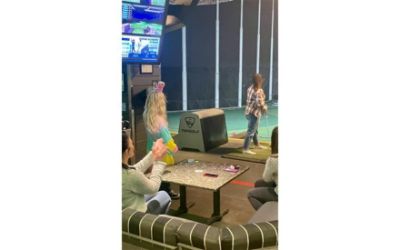 ---
Here's what Subaru of Olathe REALLY stands for: - Kara P
My last experience with Olathe Subaru is one that I can say is responsible for beginning a lifelong loyalty. I've always been a Subaru driver, I bought a Subaru legacy wagon back in the 2000's and my love for them began. But before, I'd always just bought them used for cash from an individual. I had always been leery of car dealerships. My first car I bought at 19 from a wholesale cash dealer and he sold me a salvage motor without disclosing it. It broke down 2 months later and he wouldn't even spare me a moment to tell me how to fix it. He took all my money and the vehicle was totaled. So when I went into Olathe Subaru in 2019, I had more than a chip on my shoulder and was very skeptical at no fault of their own. They sold me a new Subaru Crosstrek and I adored it. When they sent me an offer to trade up, I was ready to level up and get into a new Outback. It arrived right when they said it would and we had the *smallest* snag with the Outback order, the trim wasn't right. The general manager, Kevin, got word of this and immediately took over and went into action. He took the relationship I had with Subaru very seriously and profusely promised that he would make everything perfect. He got creative and presented multiple options, all putting me in a win-win position. He scoured the inventory and made many phone calls. During our talk, we walked by an Ascent that caught my eye. He walked me through the differences between the Outback and the Ascent. I ultimately decided to shift gears and include that in our search. The inventory was very low, and while it was naturally out of his control, he didn't stop. He found a car that would work but I wasn't head over heels. He still had it sent to us from across the country and because of his massive efforts, I still wanted to move forward because that is worth something to me. We scheduled my meeting and I shared my contentment but was honest and shared my lack of enthusiasm. Evidently, Kevin took that seriously again and went back to work. He sold the Ascent and found a brand new Ascent with everything I told him mattered to me and even some extras I didn't expect. He held the car without my even knowing. So, on the day of my meeting to make our switch, I'm expecting to commit to my 2nd choice and he'd already saved the perfect car for me. It had my name on the big yellow "sold" tag and everything. All of the little things I didn't love about the Outback, he found in the Ascent and performed a miracle on the price for me. I literally don't think anyone will be better served at any other dealer. Kevin went above and beyond…and then some. I was already happy with the amount of care and service that was happening, and then he took it so much farther. As a person who had such a bad start with buying a car as a young kid, to end up in a situation where you know for certain that you were given the best deal and that your dealership moved heaven and earth for you—is quite the happy ending. I'm over the moon everyday I get to drive this car and tell everyone how much I love it and where I got it. I've already sent a friend in and she bought a Subaru Crosstrek just yesterday! I cannot wait for the day we're buying my son his first car here. If you are looking for a car, look no further. Kevin and his people at Subaru of Olathe will welcome you like family and serve you like royalty. My business stays here, I wouldn't trust anyone else. Thank you Kevin!
---
Olathe Subaru and Subaru of America come through! - Michael M
I had a very favorable experience with this dealership as well as Subaru corporate recently and it deserves to be shared; I apologize in advance that this may be a longer review as the details are relevant. I came into the service department of Subaru of Olathe for a scheduled oil change last week. While there, they obviously did an inspection to see if there are any other issues that may require attention and indeed, they found that I was due for my 30k service (I drive a 2020 Subaru Ascent model that had 31k miles on it) but they also found that I needed to replace my tires. This shocked me since it's a relatively new car with only 31k miles on the factory installed tires and I wouldn't think that I would need to replace them so soon. My service advisor, Jordan Freed told me that the model of tire that was put on my vehicle from the factory had some known issues and didn't last very long and he suggested that I call 1-800-Subaru3 to speak with their customer advocacy department which I wasn't even aware of. I agreed only to the 30k mileage service and went into their showroom to find a table to spread out some paperwork and to make a call to the advocacy department. Naturally, I was on hold waiting for a live rep to answer me long enough that I just left my call back number for them to call me when I was next in line in the queue and went back to researching new tires. While doing so, a gentleman stopped by to see if I was being taken care of and he happened to be Kevin Kight, the GM of the dealership. I explained my circumstance to him and he said that he would personally go back to the service department to investigate the tire issue on my behalf. While he did so, I got a call back from the Subaru advocacy department and spoke to a very compassionate and accommodating rep named Jim. He took notes and listened to my circumstance and said he would research the tire issue further and call me back once he had his findings to share with me but indicated that he thought they would be able to do something for me pertaining to new tire replacements. I was hoping maybe for a partial credit to go towards the $950.16 new tire expense. In the meantime, Kevin came back after talking with the service department and said he'd agree to sell me a set of new tires for half price and would hope that Subaru might come through and pay the other half. He also said he could get a new front end alignment done after the new tires were installed as it should be covered by my original warranty. Since my tire tread depth was low enough and with a pending snow storm on the way, I agreed to his reasonable offer and consented to the new tires purchase. It was late enough in the day that they couldn't get all the work done before closing so they also gave me a free loaner car to take home overnight which I brought back the next morning when the work was completed on time and as agreed to. 5 days later, I got the news from the dealership that they had spoken directly to the advocacy department of Subaru who had now agreed to pay for 100% of the entire cost of new tires saying it would be covered under my original warranty. What a pleasant surprise since this provided me with a refund of almost $500.In summary, thanks to the knowledge of service advisor Jordan Freed, the personal involvement of GM Kevin Kight, both from the Olathe Subaru dealership and Subaru corporate standing behind their product, I now have 4 brand new tires with a 65k warranty on them for free on my 2020 Ascent with 31k miles on it. I got the dealership to lower the cost of my 30k service since I didn't need to pay for a tire rotation that would normally be a part of that and I had a 10% off coupon as well that they honored. I paid a fraction of the total expense for all of the parts and labor and could not be more pleased with the ultimate outcome of this interaction, the professionalism of the people involved and the demonstration that Subaru stands behind their vehicles. This is my first Subaru vehicle to own but it won't be my last based on this experience. It's no wonder that so many Subaru owners are brand loyal and customers for life. Thank you for showing me what a true customer service experience is supposed to be like!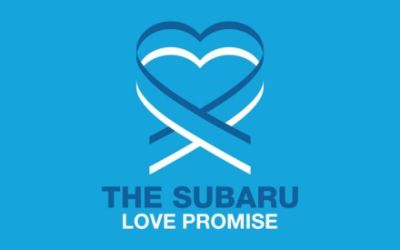 ---
Build a bike event and bike give away - Katy H
This past Saturday, Subaru of Olathe gave away 24 bikes to the students at Rolling Ridge Elementary School. They asked volunteers to help build the bikes that they purchased, at their store on December 18th at 9:30am. Kevin Kight (GM) reached out to me in the fall, after touring our school and saw a need in our building. Kevin had a wonderful idea to include our school in his vision. We did a raffle for the 24 bikes and we had over 200 students submit their raffle ticket along with a reason they love Rolling Ridge Elementary. Kevin came to our school and helped me announce the 24 students at an all school assembly. These students are so lucky to have Kevin and many of the other GM's for Baxter auto, as a role model. We are blessed to call Subaru of Olathe a community partner and look forward to working with again in the future. Thank you for choosing us! The students and staff of Rolling Ridge Elementary are blessed to have you and your company in our lives!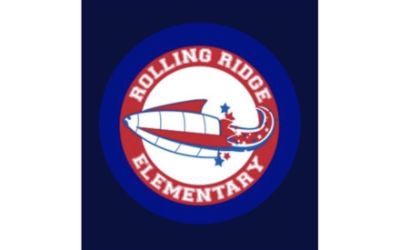 ---
Paula's Story - Ashton W
After being diagnosed with cancer, Paula had a lot of questions and thoughts that were constantly popping up. A cancer diagnosis is always an overwhelming experience and there are times in the middle of the night where you have thoughts/questions and do not want to wake your loved ones. With her mind reeling, she looked for a place to go to ask her questions and find quick, reliable answers. She quickly found the live chat feature on the American Cancer Society's website, cancer.org. This live chat is staffed by seasoned professionals 24/7. It's not a live chat with a bot, but with an actual person who is able to answer questions and help process information. Paula would logon to cancer.org at 2 am to help process updated treatment information. Sometimes, she just could not sleep and needed a place to turn. The American Cancer Society was there for her. This story would not be possible without the generous support of Olathe Subaru. Their longstanding partnership with the American Cancer Society here in Kansas City funds support for patients in our community. Olathe Subaru is an amazing community partner and they are passionate about leading the fight against cancer.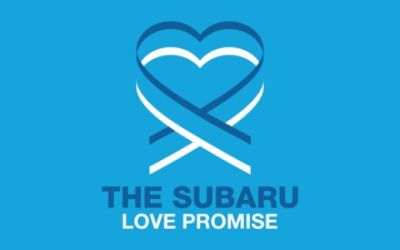 ---
Morris' Hero - Subaru of Olathe - Jess R
Morris, a pitbull mix, a tripod, and a long term resident of HSGKC hadn't had any luck finding his forever home. He had a lot of factors working against him - his breed, his disability, and the amount of time he had already lived in a shelter - all seemed to deter adopters from choosing this happy, wiggly boy. That was until he met Sam. Subaru of Olathe generously sponsored the adoption fees of any pet adopted from The Humane Society of Greater Kansas City throughout the month of October, and to celebrate this fundraiser, HSGKC staff took some of our adoptable dogs and cats to the dealership to get some love! There, Morris the TriPawd, met Sam. Sam works for Olathe Subaru and had been looking for the right pup for a long time, without any luck. Immediately, Morris and Sam hit it off. The disabled pitbull that had been looked over time and again, spent the entire afternoon snuggled up in Sam's lap. Fast forward a few weeks, when Sam reached out to us asking about Morris. He told us he couldn't get Morris out of his head and had decided he wanted to adopt him. He was worried that he had some traveling to do, so had planned to finally take him home after Christmas. But as soon as he came to the shelter to see Morris a second time, that plan changed! A week later, Morris had a forever home with his perfect person. Thank you to Subaru Olathe for your generosity! Because of you, our shelter pets were showered with toys, attention, and love and Morris the Underdog found a home.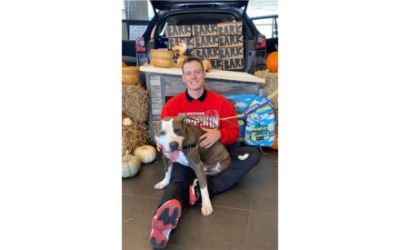 ---