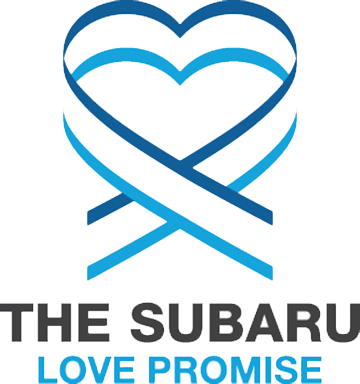 What is the Subaru Love Promise?
Subaru and our retailers believe in making the world a better place and the Subaru Love Promise is our vision of respecting all people. This is our commitment to show love and respect to our customers and to work to make a positive impact in the world.
How is Subaru of Olathe dedicated locally to the Love Promise?
Love Promise Commitment
Sante Fe Trail Middle School
Boys and Girls Club Olathe
American Cancer Society Inc.
Love Promise Stories from Subaru of Olathe
Subaru and Subaru of Olathe believe in making a positive impact on the communities in which we live and work. We uphold that belief through our Love Promise Community Commitment. Every month, we select inspiring stories from customers and partners from around our area who strive to support our collective commitment and feature them here
Olathe Subaru and Subaru of America come through! - Michael M
I had a very favorable experience with this dealership as well as Subaru corporate recently and it deserves to be shared; I apologize in advance that this may be a longer review as the details are relevant. I came into the service department of Subaru of Olathe for a scheduled oil change last week. While there, they obviously did an inspection to see if there are any other issues that may require attention and indeed, they found that I was due for my 30k service (I drive a 2020 Subaru Ascent model that had 31k miles on it) but they also found that I needed to replace my tires. This shocked me since it's a relatively new car with only 31k miles on the factory installed tires and I wouldn't think that I would need to replace them so soon. My service advisor, Jordan Freed told me that the model of tire that was put on my vehicle from the factory had some known issues and didn't last very long and he suggested that I call 1-800-Subaru3 to speak with their customer advocacy department which I wasn't even aware of. I agreed only to the 30k mileage service and went into their showroom to find a table to spread out some paperwork and to make a call to the advocacy department. Naturally, I was on hold waiting for a live rep to answer me long enough that I just left my call back number for them to call me when I was next in line in the queue and went back to researching new tires. While doing so, a gentleman stopped by to see if I was being taken care of and he happened to be Kevin Kight, the GM of the dealership. I explained my circumstance to him and he said that he would personally go back to the service department to investigate the tire issue on my behalf. While he did so, I got a call back from the Subaru advocacy department and spoke to a very compassionate and accommodating rep named Jim. He took notes and listened to my circumstance and said he would research the tire issue further and call me back once he had his findings to share with me but indicated that he thought they would be able to do something for me pertaining to new tire replacements. I was hoping maybe for a partial credit to go towards the $950.16 new tire expense. In the meantime, Kevin came back after talking with the service department and said he'd agree to sell me a set of new tires for half price and would hope that Subaru might come through and pay the other half. He also said he could get a new front end alignment done after the new tires were installed as it should be covered by my original warranty. Since my tire tread depth was low enough and with a pending snow storm on the way, I agreed to his reasonable offer and consented to the new tires purchase. It was late enough in the day that they couldn't get all the work done before closing so they also gave me a free loaner car to take home overnight which I brought back the next morning when the work was completed on time and as agreed to. 5 days later, I got the news from the dealership that they had spoken directly to the advocacy department of Subaru who had now agreed to pay for 100% of the entire cost of new tires saying it would be covered under my original warranty. What a pleasant surprise since this provided me with a refund of almost $500.In summary, thanks to the knowledge of service advisor Jordan Freed, the personal involvement of GM Kevin Kight, both from the Olathe Subaru dealership and Subaru corporate standing behind their product, I now have 4 brand new tires with a 65k warranty on them for free on my 2020 Ascent with 31k miles on it. I got the dealership to lower the cost of my 30k service since I didn't need to pay for a tire rotation that would normally be a part of that and I had a 10% off coupon as well that they honored. I paid a fraction of the total expense for all of the parts and labor and could not be more pleased with the ultimate outcome of this interaction, the professionalism of the people involved and the demonstration that Subaru stands behind their vehicles. This is my first Subaru vehicle to own but it won't be my last based on this experience. It's no wonder that so many Subaru owners are brand loyal and customers for life. Thank you for showing me what a true customer service experience is supposed to be like!
---
Build a bike event and bike give away - Katy H
This past Saturday, Subaru of Olathe gave away 24 bikes to the students at Rolling Ridge Elementary School. They asked volunteers to help build the bikes that they purchased, at their store on December 18th at 9:30am. Kevin Kight (GM) reached out to me in the fall, after touring our school and saw a need in our building. Kevin had a wonderful idea to include our school in his vision. We did a raffle for the 24 bikes and we had over 200 students submit their raffle ticket along with a reason they love Rolling Ridge Elementary. Kevin came to our school and helped me announce the 24 students at an all school assembly. These students are so lucky to have Kevin and many of the other GM's for Baxter auto, as a role model. We are blessed to call Subaru of Olathe a community partner and look forward to working with again in the future. Thank you for choosing us! The students and staff of Rolling Ridge Elementary are blessed to have you and your company in our lives!
---
Paula's Story - Ashton W
After being diagnosed with cancer, Paula had a lot of questions and thoughts that were constantly popping up. A cancer diagnosis is always an overwhelming experience and there are times in the middle of the night where you have thoughts/questions and do not want to wake your loved ones. With her mind reeling, she looked for a place to go to ask her questions and find quick, reliable answers. She quickly found the live chat feature on the American Cancer Society's website, cancer.org. This live chat is staffed by seasoned professionals 24/7. It's not a live chat with a bot, but with an actual person who is able to answer questions and help process information. Paula would logon to cancer.org at 2 am to help process updated treatment information. Sometimes, she just could not sleep and needed a place to turn. The American Cancer Society was there for her. This story would not be possible without the generous support of Olathe Subaru. Their longstanding partnership with the American Cancer Society here in Kansas City funds support for patients in our community. Olathe Subaru is an amazing community partner and they are passionate about leading the fight against cancer.
---
Morris' Hero - Subaru of Olathe - Jess R
Morris, a pitbull mix, a tripod, and a long term resident of HSGKC hadn't had any luck finding his forever home. He had a lot of factors working against him - his breed, his disability, and the amount of time he had already lived in a shelter - all seemed to deter adopters from choosing this happy, wiggly boy. That was until he met Sam. Subaru of Olathe generously sponsored the adoption fees of any pet adopted from The Humane Society of Greater Kansas City throughout the month of October, and to celebrate this fundraiser, HSGKC staff took some of our adoptable dogs and cats to the dealership to get some love! There, Morris the TriPawd, met Sam. Sam works for Olathe Subaru and had been looking for the right pup for a long time, without any luck. Immediately, Morris and Sam hit it off. The disabled pitbull that had been looked over time and again, spent the entire afternoon snuggled up in Sam's lap. Fast forward a few weeks, when Sam reached out to us asking about Morris. He told us he couldn't get Morris out of his head and had decided he wanted to adopt him. He was worried that he had some traveling to do, so had planned to finally take him home after Christmas. But as soon as he came to the shelter to see Morris a second time, that plan changed! A week later, Morris had a forever home with his perfect person. Thank you to Subaru Olathe for your generosity! Because of you, our shelter pets were showered with toys, attention, and love and Morris the Underdog found a home.
---
Buddy's Story - Molly M
Buddy, a 4/12 year old Rat Terrier, was rescued with 38 other dogs from a hoarding situation in Texas earlier this year and brought to Wayside Waifs. When they came to Wayside, it was apparent they had not received medical care or socialization, and had been living in deplorable conditions. It broke our hearts to know they had never felt love. Buddy needed vaccinations, dental care and other treatment that would keep him healthy. Other dogs were in dire need of more intense medical care, including severe dental disease, which can be deadly. In addition to Buddy's medical needs, he was suffering behaviorally. Many of these dogs were so shy, they struggled with human touch. While at Wayside, Buddy and the 37 other dogs began socializing with volunteers and staff. They would sit with them in their kennels - reading to them, singing to them, feeding them treats – which helped them come out of their shells at their own pace. So many of our wonderful foster families welcomed these dogs into their homes until it was time to be adopted. Because of animal lovers like Subaru, Buddy got a second chance and found a forever family. Adopted by a loving family. He was adopted and now receives the love that every animal deserves. Partnerships with caring organizations, like Subaru Loves Pets, is just one of the reasons homeless pets at Wayside Waifs continue to find loving homes year-after-year. Your kindness and selflessness is making a paw-print in homeless pet's lives! Thank you.
---